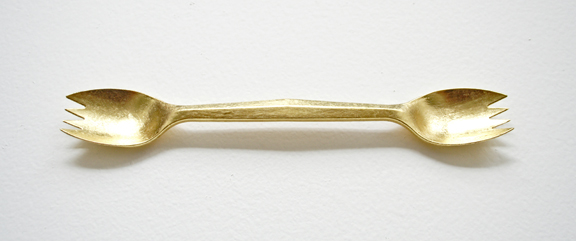 I first met the THE FRANKS at an Apartment Therapy gathering celebrating the contest they had just won for the design of their home. I have followed their artwork since that day. It is provocative and bold.
The Franks' Creative Process :
The Franks' work employs the use of text, signage, and objects carrying multiple layers and interpretations. They attempt to dissect the layers to find patterns and substance. By deconstructing objects and exploring the inherent characteristics and relationships, they hope to discover something lasting and truly of value. Throughout our career we've explored many avenues of artistic production. We are currently most interested in sound and music design, photography, and video.
Whose creative process do you want to know about?
Artist Adam McEwen www.interviewmagazine.com/art/adam-mcewen/
Supreme Cuts www.last.fm/music/Supreme+Cuts

More about The Franks
Peter Frank holds an MFA from Tyler School of Art in Philadelphia; Marilyn Frank, a BA from Columbia College Chicago. They relocated from New York to Chicago in 2001. Currently, they are based in Chicago. From 2005-2008, they ran an alternative space in Chicago's West Loop, and have shown at Rowland Contemporary, Devening Projects+Editions, Dominican University, Beverly Arts Center, OQBO Gallery (Berlin), College of DuPage, Greenlease Gallery at Rockhurst University (Kansas City, MO), and others.